Sports Roundup
There has been lots going on this term at Holden Clough. Whether it's a regional competition or a new game to try out at lunch time, our pupils are always happy to get stuck in and give their best effort. We can't wait to see how they continue to make the most of the opportunities ahead!
Autumn Term 23-24
Fun with Gymnastics
Our Year 6 pupils had a fantastic lesson using our gymnastics equipment this term - and put together some stellar routines! They also offered each other great advice and feedback on each other's performances, showing excellent teamwork and collaboration.
Bowling success
Our pupils had a brilliant time 10-pin bowling at the Active Tameside Wellness Centre this month. Thank you to Panathlon Challenge for hosting this exciting event. Not to mention Holden Clough came a fantastic second place! We are very proud of our pupils for this achievement. Well done to Micklehurst All Saints School, who placed first, Our Lady of Mount Carmel R.C Primary School, who placed third - and to all the other pupils who took part on the day!
Welcome back
Welcome back to all our staff and pupils! We hoped you enjoyed your break and are ready for a great year of learning.
Summer Term 22-23
School Games Award
Amazing news for our school, as we recieve the School Games Gold Award in PE for the 2022-23 academic year! A huge thanks to the Manchester United Foundation and the Great Ashton Academy for helping us achieve this fantastic award.
CPD Skills
This term our Year 5 pupils took part in CPD sessions by the Manchester United Foundation. Showing different fundamental skills in a variety of sports like football, cricket and hockey. Good work everyone!
Young Leaders
We wanted to thank the fantastic leaders at Great Ashton Academy, who helped deliver our KS1 and KS2 Sports Days this term. You were a great help and thanks to you the day was a great success!
Mini Medics
Our Year 4, 5 and 6 pupils took part in a course about First Aid and DR ABC this term. Thank you to the Manchester United foundation for teaching our students valuable and possibly life saving skills they can take with them far beyond their time at Holden Clough.
National School Sports Week
This term marked National School Sports Week. The Manchester United Foundation delivered a Fred the Red Day, as well as students from Great Academy Ashton and the Primary Red young leaders helped deliver a fantastic whole school multi-sports day.

Spring Term 22-23
Football Festival
Our Year 5 pupils had a wonderful time attending the Football Festival, meeting footballer Rachel Brown-Finnis and seeing the Women's FA Cup before the big final. Thank you to the Manchester United Foundation and Great Academy Ashton for hosting.
Bowling Victory
Local pupils took part in the Panathlon Challenge SEN 10 pin powling competition. A huge well done to our pupils who came 2nd place, what an achievement!
Tennis Skills
Our Year 3 students have been learning some fundamental tennis skills this term. They have shown some amazing effort and have been working hard!
Active Maths
Our students have been taking part in some fun Active Maths sessions, delivered by the Manchester United Foundation. Working with different KS2 groups this term it is a great way to make learning Maths more fun and engaging. Plus getting to move while you do it works body and mind together.
Well done Wildcats!
Our Wildcat Footballers had a fantastic time at the girls' football festival, playing with other teams from Tameside schools. It was great to see the girls showcasing their talent on the pitch, well done!

Making Dreams Come True
Through our partnership with the Manchester United Foundation, some very lucky pupils got the chance to make their dreams a reality this term! We headed over to Old Trafford to watch the Manchester Derby game, and two of our pupils even got the chance to take penalties at half time.
It was incredible to see Jacob lead the Man Utd team out alongside Harry Maguire for the FA Cup game. What an amazing opportunity!

Handball Tournament
Children have enjoyed playing handball this term, building on their skills in preparation for the Intra Handball Tournament! Pupils had so much fun, showing excellent teamwork, refereeing and sportsmanship. Well done to all who took part!

Pushing Ourselves to the Limit
Children had a brilliant time at the Determination Festival, trying out lots of different sports activities, from trampolining to skateboarding. Great to see children stepping out of their comfort zones and taking on new challenges!

Children's Mental Health Week
This Children's Mental Health Week, we learned the importance of staying healthy, getting active, and always reaching out for help when we need it. Lovely to see so many smiles on the playground!

Dodgeball Festival
Our Year 3 and 4 pupils loved taking part in the dodgeball festival this term. Children competed brilliantly, showing fantastic teamwork and motivation throughout. Thanks for doing us all proud!
Everyday is a forest day!
Our forest explorers have had lots of fun in the forest school, learning all about fire safety, tying knots and making friendship bands. We've even enjoyed going back in time to build Stone Age houses and create our very own Stone Age inspired artwork!


Playground Leaders
As always, our playground leaders have been leading exciting lunchtime activities and inspiring other children to get involved! We are so proud of all their hard work and commitment to promote leadership, friendship and teamwork across the whole school. Take a look at some of their wonderful posters below!

Autumn Term 22-23
The Best School Day Ever
Three very lucky pupils visited Old Trafford this December for an event called 'The Best School Day Ever!' They took part in a range of activities including cooking and product design. Thank you to the Manchester United Foundation for organising!

Dance Group Success
We are very proud of our dance group - who ended up finishing second place in their dance competition in December! The group gace an amazing performance and we are thrilled with their success and their second place trophy. Thank you to everyone who helped and organised the event.

CPD Fun
Our Year 1 pupils had lots of fun learning new skills this term, taking part in CPD led by the Manchester United Foundation. Our children and teachers really enjoyed it.
Girls Football
Our Year 6 girls have been taking part in some fantastic girls only football sessions this October - delivered by the Manchester United Foundation. Our girls have also been taking part in a girls only after school club. Helping with every session is the amazing Girls Game Changer.

Playground Leaders
Our fantastic Manchester United Foundation Playground Leaders have been delivering different multi-sports to our KS1 and KS2 pupils every lunchtime. They should be extremely proud of all their hard work and making sure there is always something fun to play.

Sports Ambassador Training
This term, pupils headed over to Old Trafford to discover what it takes to be a Sports Ambassador! Children developed their leadership skills and even took part in first-aid training. Children now have lots of ideas to take back with them to the playground and share with the rest of our sports leaders.
Intra Sports After-School Club
KS2 pupils have loved taking part in our brand new Intra Sports After-School Club! This club gives children the opportunity to play with their peers in different sports. Team work makes the dream work!
Forest Explorers
Our Year 1 pupils have loved getting their hands dirty in the forest school this term. Inspired by the amazing storybook Room on the Broom, children made their very own woodland broomsticks. We also made portraits of Manchester United's famous mascot, Fred the Red, using the forest floor as our canvas.
Play It By Ear!
Year 4 had lots of fun taking part in different challenges to understand the importance of communication in sports. Collaboration is the key to success!
Football
We are so proud of our girls' football team who took part in the Emma Toone cup this term. A fantastic match that went to extra time and penalties, keeping us all on the edge of our seats! It was wonderful to see the girls having so much fun.
Dodgeball Festival
Three amazing teams, one fantastic dodgeball festival! A huge well done to all pupils who took part, including teams from Inspire Academy and Our Lady of Mount Carmel R.C. Primary. All children showed excellent determination and teamworking skills. We can't wait for the next one!
Basketball
This term, we couldn't get enough of basketball at Holden Clough. Over six weeks, we worked with our brilliant coach from the Manchester United Foundation, who taught us all the rules of the game. Pupils mastered the basics first, learning how to control the ball before perfecting their dribbling, passing, and shooting techniques. It was lovely to see so many smiley faces on the court.
Tag-Rugby
Pupils in Year 5 and Year 6 loved playing games of Tag-Rugby this autumn. Children learned all the different ways to pass the rugby ball - both forwards and backwards! - developing their coordination and teamwork skills. But best of all, the children had so much fun playing together.
Summer Term 21-22
Stadium Tour
A big thank you to the Manchester United Foundation for the amazing stadium tour of Old Trafford this month. Our children absolutely loved every minute of it!
Highland Games
We took part in some cross-curriculum sports activities in PE this term. Our Year 4 pupils learned all about Scottish sports trying out the different events from the Highland Games - like Tug o'war, hammer throw and weight for height.
Transition Football Tournament
Our girls had a fantastic time at the Transition football tournament at The Cliff training ground in Salford. It was great for the Holden Clough and the GAA pupils to be able to meet enjoy playing some football together. Well done to our girls, you did amazingly!
Manchester United Foundation CPD
Our Year 5 pupils took part in some cross-curriculum sports this term. They took part in some Maths angle's spinning and jumping using the Geography points of a compass. We are thrilled to be able to find new ways to teach PE and combine it with subjects across the curriculum.
Young Leaders
Our year 5 young leaders took part leading warm-ups during our PE sessions. It's a great way to build their confidence as leaders and build the positive attidues of themselves and their peers.
KS2 Sports Day
Our KS2 Holden Clough Primary School students had a fantastic Sports Day. We got some amazing weather and it was fantastic to see all the parents and children enjoying themselves. Big thank you again to the fantastic GAA leaders for their help supporting us on the day.
Red Day
We had an amazing Sports Week, including Red Day to celebrate all the work the Manchester United Foundation do at Holden Clough. We even had special guest Fred the Red make an appearance.
Playground Leaders
A huge thank you to our amazing playground leaders for all their hard work during lunchtimes. Their amazing teamworking skills ensure that all our pupils get to enjoy their lunch times and make every single one fantastic. Well done guys!
Racket sport fun
Our pupils took part in some fantatic Racket Sport, from the Manchester United Foundation. Our children learned a range of techniques - developing their coordiinational skills and had a lot of fun taking part!
Forest Explorers
Our forest explorers have been having lots of fun this term learning about fire safety. They displayed fantastic teamwork learning how to build a fire safely. This is a crucial outdoor skill and we are proud of our pupils for their hard work!
Trip to Old Trafford
Some of our students were invited to Old Trafford on Tuesday to take part in a Manchester United Foundation fun-filled activity day. They were even lucky enough to play on the pitch! They had an amazing time and an unforgettable experience.

A professional footballer visits Holden Clough
This month, some of our pupils got to meet professional footballer Ella Toone, who plays for Manchester United Women Football Club. It was such an inspiring experience for our girls to meet Ella. A huge thanks to Tameside SSP and the Manchester United Foundation for this fantastic opportunity.

Dance Success
A huge well done to our Dance Team, who finished in third place in their competition this month. Another well done to Emily who also finished second place in the solo dance. We are extremely proud our all their hard work, it really shined through in their performances!

Cricket Tournament
Our team took part in the Tameside SSP cricket tournament at Dukinfield CC. They had lots of fun and showed huge progression in their skills and working together as a team - which is a fundamental part of any sports competition. Well done everyone!

Mixed Football Friendly
Our football team took part in a mixed football friendly with St. Cristophers RC Primary School. Our team displayed great sportsmanship and teamwork and we couldn't be more proud of their efforts! Thank you to St. Cristophers for having us.

Commonwealth Games
Our Year 5's took part in a Commonwealth Games morning, trying different sports from the upcoming 2022 Commonwealth Games like hockey, badminton and basketball. Thank you to the brilliant young leaders from Great Academy Ashton for helping out with the day.

U11's Cup Regional Finals
Incredibly proud of our girls football team today representing Curzon Ashton Community Foundation for The National League Trust Under 11's Cup Regional Finals. The team performed amazingly, finishing in second place and only marginally missing out on the national finals. Well done girls!

Forest Explorers
Introducing the new Manchester United Foundation Forest Explorers. Built to help our pupils achieve personal and social development, practice teamwork, learn problem-solving skills, build positive relationships with their peers, improve communication skills, encourage their emotional wellbeing and much more.
Taylor's Fundraising
Taylor from 6AH took part in a sponsored walking challenge during the Spring half-term holidays. He will walked a mile, swam a mile and cycled a mile each day for seven whole days. Taylor raised an amazing £1,815! Well done Taylor for such brilliant determination and dedication for a wonderful cause.


Spring Term 21-22
Perry the Bull
Say hello to Perry the Bull Birmingham 2022's official mascot
The children will be learning all about the Birminingham 2022 Commonwealth Games in PE this term. Games for Everyone!!
If your children would like to get creative as well as active, there are lots of printable colouring sheets on this website birmingham2022.com/mascot! We'd love to see their creations in school!

Panathlon Bowling Success
What a successful day of sports at Holden Clough winning the Panathlon Bowling event with Tameside SSP. It was an absolutely fantastic event and we would like to say a big thank you to everyone involved in the organising. We had so much fun! A special mention to Haider who scored the most points winning a special award!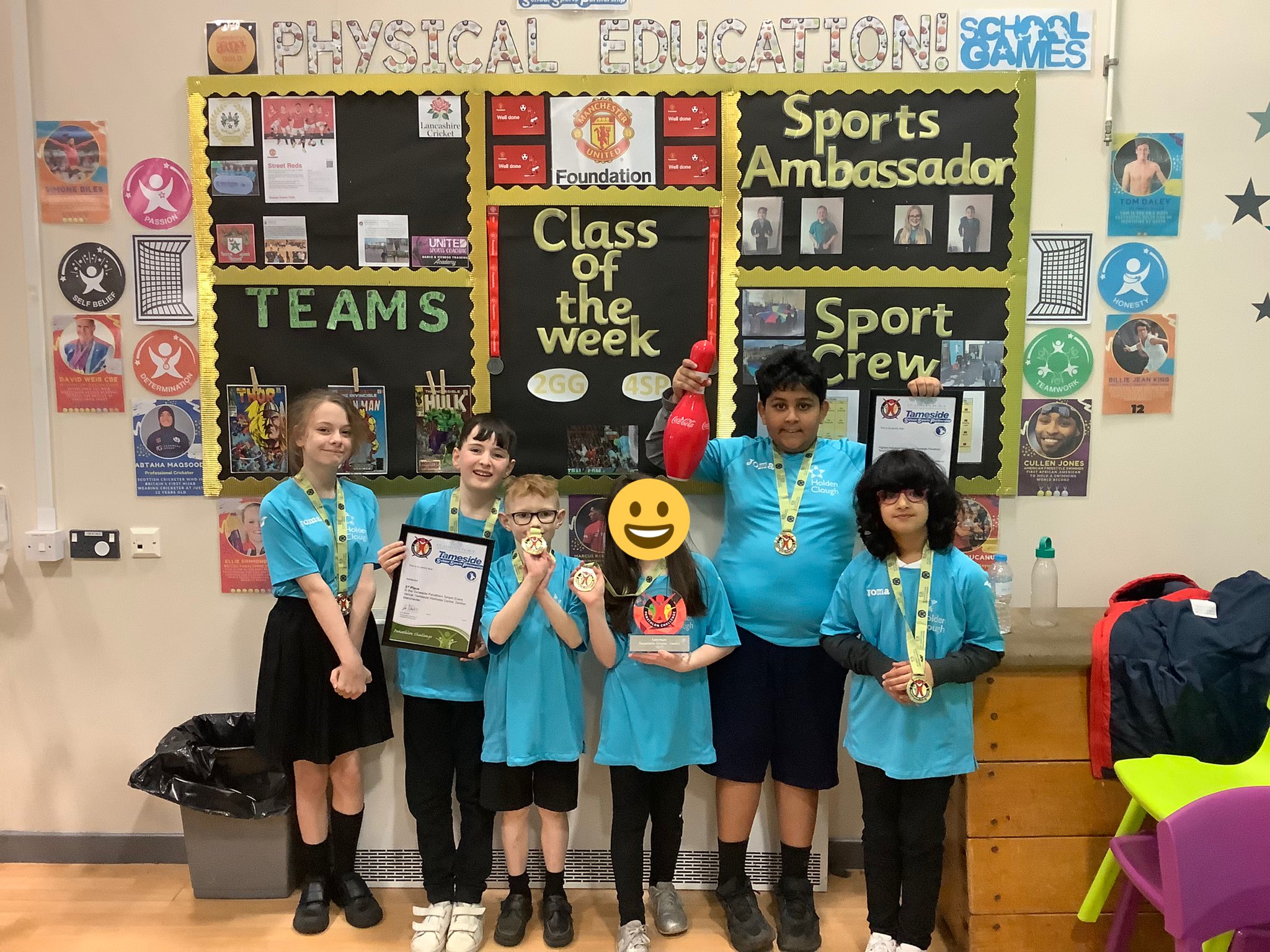 Dodgeball
Holden Clough had lots of fun participating in the dodgeball event this January. The children showed great teamwork and enthusiasm, as well as respect for all the other players. Well done to our brilliant team!

Football Tournament
Our football teams had an incredible time taking part in the Manchester United tournament. The games took place at the Cliff training ground, where professional Manchester Utd footballers used to train back in the 90's, now home to the Manchester Utd Women's team! Our fantastic mixed Year 5/6 players made it to the final two, and then two weeks later our amazing girls' team finished second place. We can't wait to see them in the finals.

Lunch Time Sports
Thanks to us joining the Manchester United Foundation, school lunch times now include a whole variety of fun games and activities. Mr Taylor, our new full-time coach, has set up obstacle courses for KS2 pupils, whilst our Sports Crew in EYFS and KS1 have enjoyed playing with parachutes, skittles and dart balls. All the children have been very eager to get involved and try new things, developing lots of new skills in the process.

Cross Country
On Saturday, 29th January, our cross country runners woke up early to go to East Cheshire Harriers & Tameside Athletics Club, where they braved the cold weather to join in the cross country event. The running course certainly didn't look easy but everyone's hard work and training paid off! Well done to everyone for giving it their all, especially Olivia who qualified for the Cross Country Championships. We'll definitely be there to cheer you on!