Sports Roundup
There's been lots going on since everyone returned to school after the holidays. Whether it's a regional competition, or a new game to try out at lunch time, our pupils are always happy to get stuck in and give their best effort. We can't wait to see how they continue to make the most of the opportunities ahead.


Perry the Bull
Say hello to Perry the Bull Birmingham 2022's official mascot
The children will be learning all about the Birminingham 2022 Commonwealth Games in PE this term. Games for Everyone!!
If your children would like to get creative as well as active, there are lots of printable colouring sheets on this website
birmingham2022.com/mascot
! We'd love to see their creations in school!
Panathlon Bowling Success
What a successful day of sports at Holden Clough winning the Panathlon Bowling event with Tameside SSP. It was an absolutely fantastic event and we would like to say a big thank you to everyone involved in the organising. We had so much fun! A special mention to Haider who scored the most points winning a special award!!!!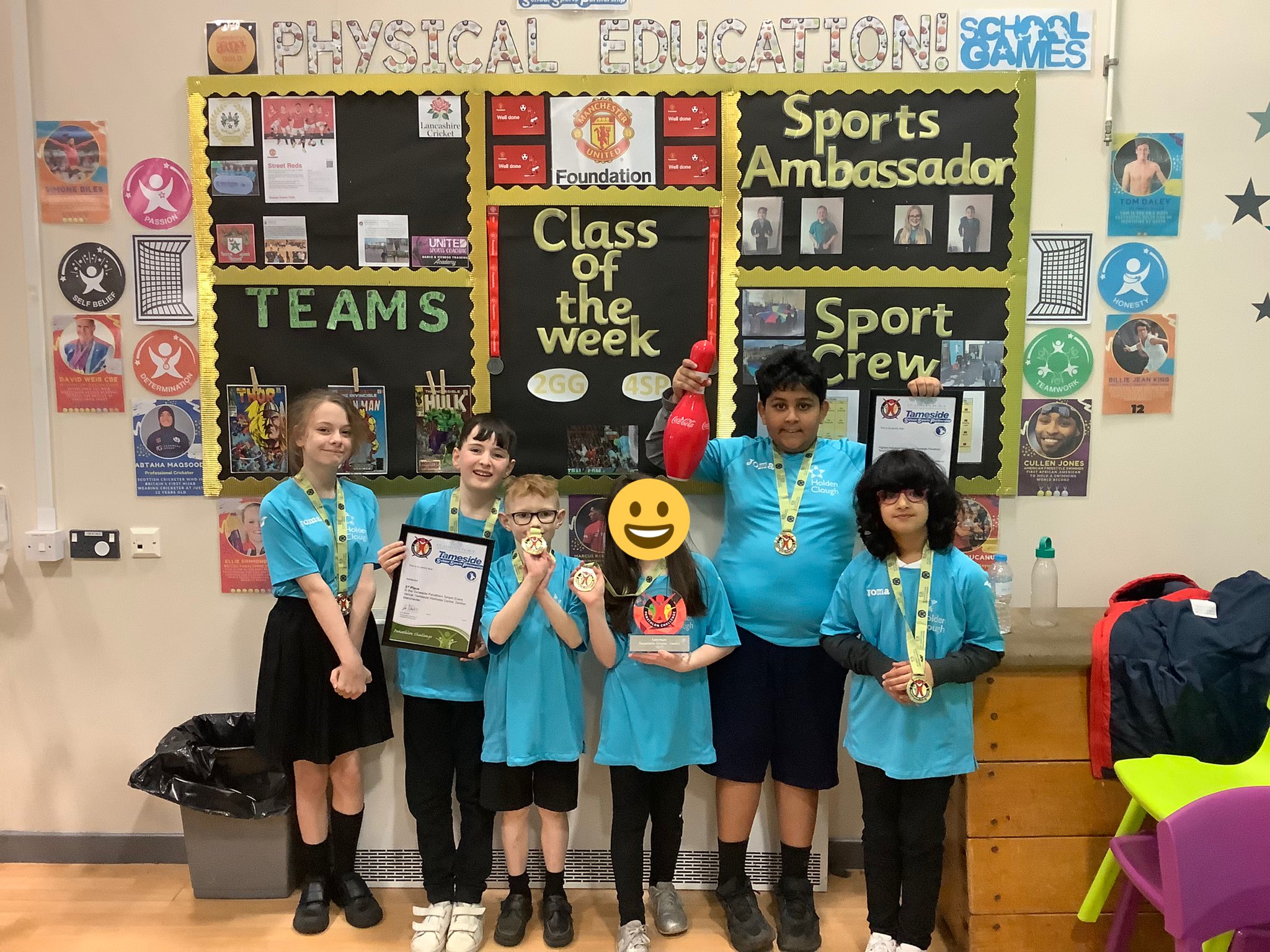 Dodgeball
Holden Clough had lots of fun participating in the dodgeball event this January. The children showed great teamwork and enthusiasm, as well as respect for all the other players. Well done to our brilliant team!

Football Tournament
Our football teams had an incredible time taking part in the Manchester United tournament. The games took place at the Cliff training ground, where professional Manchester Utd footballers used to train back in the 90's, now home to the Manchester Utd Women's team! Our fantastic mixed Year 5/6 players made it to the final two, and then two weeks later our amazing girls' team finished second place. We can't wait to see them in the finals.

Lunch Time Sports
Thanks to us joining the Manchester United Foundation, school lunch times now include a whole variety of fun games and activities. Mr Taylor, our new full-time coach, has set up obstacle courses for KS2 pupils, whilst our Sports Crew in EYFS and KS1 have enjoyed playing with parachutes, skittles and dart balls. All the children have been very eager to get involved and try new things, developing lots of new skills in the process.

Cross Country
On Saturday, 29th January, our cross country runners woke up early to go to East Cheshire Harriers & Tameside Athletics Club, where they braved the cold weather to join in the cross country event. The running course certainly didn't look easy but everyone's hard work and training paid off! Well done to everyone for giving it their all, especially Olivia who qualified for the Cross Country Championships. We'll definitely be there to cheer you on!